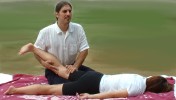 Shiatsu: It's like massage, only better.
Offering shiatsu "acupressure massage" therapy to individual and group clients in Catonsville and neighboring areas in Maryland (Ellicott City, Columbia, and the greater Baltimore area).
Gift certificates available! Get a deep "give one, get one" discount when you buy a gift certificate.
Home Office: 2119 Arlonne Drive, Catonsville, Maryland 21228 (map and directions)
Housecalls available (limited area, additional fee applies). Also, for special events, shiatsu at your office, etcetera, see our Shiatsu on the Spot service.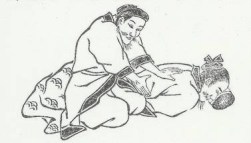 What is shiatsu? What is acupressure?
Shiatsu and acupressure are forms of Asian Bodywork Therapy. They use pressure, stretching, and other manipulations to relieve stress and pain and to promote health.
Asian Bodywork Therapy is one of the three branches of the ancient tradition of Chinese medicine, the others being acupuncture and herbalism.